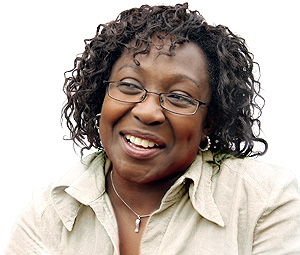 MESSAGE SERIES
These series of related talks are well suited for multi-day events and weekend retreats.
Getting Your Joy Back

This retreat series is basically "The Best of Sue Bohlin." I share my story of grace and God's "power tools" for reclaiming (or finding for the first time) the joy God intends for us to live in.
How to Handle the Things You Hate But Can't Change: My story of living with the effects of being crippled by polio as a baby and how I dealt with the anger at God I suppressed for years.
Giving Thanks as a Way of Life: Giving thanks (not feeling thankful!) is an amazing way to embrace the fact that a loving God is in control, even of the things we hate.

Seeing Ourselves From God's Perspective: One big reason our joy leaks out is that we focus on our brokenness instead of the glorious truths of what God thinks about His beloved daughters!

Obstacles to the Wellspring of Joy: Joy can flow freely when we get rid of the obstacles to its flow. I address three of those obstacles: shame, self-pity, and unforgiveness.


The Freedom Series

Jesus said, "If the Son sets you free, you will be free indeed." I explore four different perspectives on experiencing freedom from various kinds of bondage.
Freedom From Our Past: Many of us are shackled by guilt and shame, but God can set us free from these kinds of chains.
Freedom in Our Present: We can stay imprisoned by the lies and misbeliefs that have become tapes that play over and over in our heads. Replacing them with God's truth is the key to being set free.

Freedom Through Forgiveness: It is essential to understand why God wants us to forgive those who have hurt or offended us, so that we entrust them into His hands and be freed from the burden of unforgiveness.

Freedom for the Future: Fear of different things can keep us imprisoned, unable to smile at the future like the Proverbs 31 woman. But trusting in God can dismantle the fear and set us free.


The Power of Being a Woman

We don't have to struggle for power when God has made power intrinsic to femininity, especially when we align ourselves and our values and lifestyles to His heart. I explore the feminine face of God as He releases His power in our lives:
The Power of Beauty: The world's superficial definition beauty is empty and fleeting, but biblical beauty, true beauty, is that of a beautiful heart, a gentle and quiet spirit that is precious to God.
The Power of the Holy Spirit: The same power that raised Christ from the dead is available to help us live our everyday lives. This message is replete with a number of powerful visuals that usually have a great impact on the ladies.

The Power of Influence: Women have influence. Period. The question is, do we use it for good or for evil? We look at a number of influential women in the Bible and discuss the nature of influence itself.



Three messages for a weekend setting originally created for the theme "Daughters of the King—Bring On the Bling!"
Daughters of the King: What does it mean to be a princess? Real beauty, intimacy with God, community with other "royals."
Real Bling: What are true riches? Wisdom and power, knowledge, grace, glory
Bling Tarnish: Some of the things that can diminish the brightness of God's glory in us, His radiance that allows us to sparkle and shine. Shame, self-pity and unforgiveness.



Four messages covering the ACTS model of prayer: Adoration, Confession, Thanksgiving and Supplication.
Adoration: Misconceptions about the purpose of prayer; distinction between adoration and thanksgiving; scriptures that refer to various attributes of God; hand out list of biblical titles for God and list of Psalms to pray back to Him. Ideally, this session concludes with a time of small prayer groups where the ladies spend time doing nothing but praising and worshipping God, using as their tools the lists of Psalms and titles of God, as well as the various attributes we just looked at.
Confession: This session covers some biblical prayers of confession and a discussion of sinful attitudes we need to consider, mainly from Hosea.
Thanksgiving: Same message as "Learning To Give Thanks as a Way of Life." I share how learning to give thanks as a way of dealing with the trauma of having polio led me to the very difficult ability to give thanks for something far more traumatic: the loss of my first child. God's sovereignty is the reason we can give thanks for everything that happens to us. I conclude by leading the women in prayer for a list of things to give thanks for, ranging from the easy (for their vision) to the difficult (unanswered prayer, difficult people in their lives).
Supplication: Perspective on prayer; prayers to pray only once; prayers to pray persistently; prayer basics; when God says no: reasons for unanswered prayer.
---

INDIVIDUAL MESSAGES

How to Handle the Things You Hate but Can't Change
My testimony of how God helped me deal with polio, the resulting poor self-image, and my anger toward Him concerning the polio: basically, learning to see myself from His perspective, and learning to give thanks for all things. The printed version is online here. It works best to start the retreat with this talk, because the ladies get to know me REAL fast, plus it is the most important message I have to give.
What we think of ourselves isn't the important thing: what counts is what God thinks and says about us. It is incredibly encouraging to look at the beautiful evidences of God's love and affirmation that show us how very much He esteems us:
Fearfully and wonderfully made

Princess
Chosen before the foundation of the world
Gifted with spiritual gifts
Accepted in the Beloved
Bride of Christ
I share how learning to give thanks as a way of dealing with the trauma of having polio led me to the very difficult ability to give thanks for something far more traumatic: the early death of our first child. God's sovereignty is the reason we can give thanks for everything that happens to us. I conclude by leading the women in prayer for a list of things to give thanks for, ranging from the easy (for their vision) to the difficult (unanswered prayer, difficult people in their lives).

Changing Our Negative Self-Talk
I identify a long list of lies ("old tapes") we tell ourselves, messages from parents, childhood classmates, the media, and ourselves. We are in bondage to these tapes, especially if we don't even realize they are there. After identifying each lie, I provide the biblical truth with which to fight the old tape.
There is such a lovely fragrance that comes from the heart of a woman who knows how to forgive! This lecture covers the reasons people can't or don't forgive, and how to overcome those obstacles to experience peace.
This is a study of 1 Peter 4: 1-6, in which I examine the beauty of a godly life, the beauty of a gentle and quiet spirit, and the beauty of a submissive heart.
The wellspring of Joy is Jesus Himself, Who promised a fountain of living water would flow from within us when He indwells us. So why do we see so little joy in believers? Three obstacles to joy are explored: shame, self pity, and unforgiveness. (Same basic message as "Bling Tarnish" in the Princess series.)
To be a difference maker
To connect with other women
To know truth
To fill the hole in our hearts
To be beautiful
To have fun, to feel alive
To be loved and cherished by the Ultimate Lover
Instead of trying to feel good about ourselves by comparing ourselves to others, we need to look at God Himself, since He is the source of our true worth. I discuss 8 attributes/characteristics of God and what impact these have on us as His children:
Sovereign
Creative
Faithful
Provider
Father
"Fruity" (spiritual fruit)
Safe Place
The Divine Bridegroom

Unpack Your Bags, This Guilt Trip Is Cancelled! (False Guilt)
What is guilt?
Sources of guilt
How to set boundaries without feeling guilty

What Are You Doing Pushing That Porsche? (Walking in the Spirit)
Christ Himself is the Christian life
We live by faith the same way we trusted Christ
The difference between walking in the flesh and walking in the Spirit
This is the same basic message as "Living the Christian Life in the Power of the Holy Spirit" in the Power of Being a Woman series.
Bride of Christ
Princess
Abba's Child
What is grace?
Freedom in grace
Grace-killers: the bondage of legalism
Grace as a way of life
This message was given at a retreat attended by young people struggling with same sex attraction. They had all experienced various kinds of woundings in their past, and I presented a rather colorful explanation and demonstration of how forgiveness is a necessary part of healing.
God's Holiness (Isaiah 6)
Personal Holiness


Holiness is directly connected with obedience
Holiness means hating sin
Holiness needs to be pursued with a plan
Causes of anger
Mishandling Anger
Handling anger destructively
How to handle anger constructively
Principles of Encouragement
How to be an Encourager
Unity
Submission
"Rules for a Good Fight"
Faulty Views of Work
Work's Intrinsic Value
Work's Instrumental Value
I was privileged to give a "Message to Moms" at Still Water Community Church (Rowlett TX) on Mothers' Day 2009. In this message I explore the nurturing, tender heart of El Shaddai, "The Breasted One."
Transparency and authenticity are bedrock values of vibrant lives, families, organizations and churches, where people are encouraged to drop their masks and be genuine. This message provides illustrations of what transparency and authenticity look like, as well as characteristics of safe people, which are necessary for these values to flourish.
Dr. Laura Schlessinger's book, while not explicitly Christian, provides a biblical foundation for honoring and blessing husbands in ways that support their divine design as men, meets their God-given needs, and helps build strong healthy marriages.
What if Mary and Joseph had followed the postmodern mindset of valuing feelings above all else? Feelings are real but they're not reliable. What should we do instead of following our feelings? Trust God.
Apologetics
Some of this is material from Probe Ministries' Mind Games conference, discussing some of the big questions in life and in our culture:
How do we explain the fact that people do both good and evil?
How do we know the difference between right and wrong?
Where did the universe come from?
Why do bad things happen to good people?
Does God hate me when trouble comes?
What happens to a person at death?
Are angels real?
Jesus claimed to be the only way to God. Doesn't that make Christianity narrow, arrogant, and hopelessly exclusive? We need to examine Jesus' truth claims and the evidence that He is who He says He is. Then it's simply a matter of truth.
A series of questions that come up from living in our sex-saturated, self-centered culture, and answers from a biblical worldview. This talk was given at a Dallas Seminary women's leadership conference.
It prepares us to be the Bride of Christ
It allows us to minister comfort to others who suffer
It develops humble dependence on God
It displays God's strength through our weakness
Suffering gets us ready for heaven.
Sexuality
A Houston-area Christian school asked me to address their 5th-12th graders during a chapel service about homosexuality from a redemptive, biblical perspective. I encouraged the students to not accept the lies of the culture about this issue, give themselves grace to finish growing up, and how to be kind to those who struggle.

Youth are bombarded with a huge number of lies from the enemy about sex and pressure to make decisions about their sexuality that God never intended. This messages, given at ACSI (Association of Christian Schools International), equips teachers and others who care about teens to help them think through this difficult issue.

At a Dallas Seminary women's leadership conference, I addressed the subjects of homosexuality and transgender within the larger context of worldview and cultural strongholds about sex and "authentic self." This message is drawn from Lori Rentzel's classic little book, Emotional Dependency, which describes the heart's longing to find its home in another person's heart. The relational idolatry inherent in ED is the core of lesbian relationships, although anyone can find him- or herself sucked into this unhealthy way of relating to another. I spoke to parents of younger children and high schoolers at Bent Tree Bible Fellowship (Dallas, Texas) to equip them in their parenting skills and to help them think compassionately and biblically about this issue that threatens the church like nothing else. I also addressed their questions such as how to talk to kids about gender-confused people they see. The rainbow world of LGBT has become part of American culture, but how should the church minister to the people impacted by it? My perspective is shaped by 18 years of a front-row seat of watching Jesus Christ transform people dealing with unwanted homosexuality through Living Hope Ministries. In this message I provide understanding about the origins of female same-sex attraction and how to walk with women who identify as lesbians.